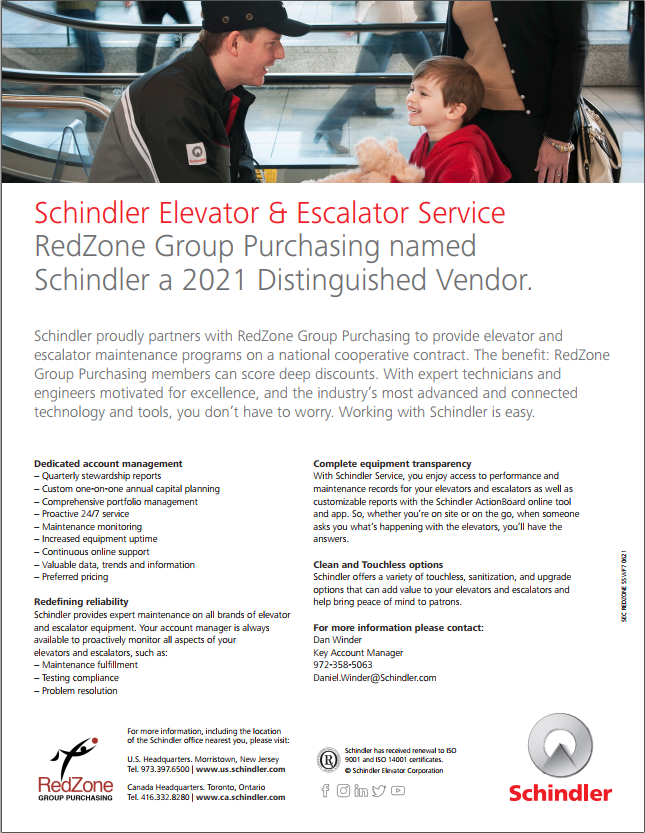 Schindler proudly partners with RedZone Group Purchasing to provide elevator and escalator maintenance programs on a national cooperative contract. The benefit: RedZone Group Purchasing members can score deep discounts. With expert technicians and engineers motivated for excellence, and the industry's most advanced and connected technology and tools, you don't have to worry. Working with Schindler is easy.
Dedicated account management
Quarterly stewardship reports
Custom one-on-one annual capital planning
Comprehensive portfolio management
Proactive 24/7 service
Maintenance monitoring
Increased equipment uptime
Continuous online support
Valuable data, trends and information
Preferred pricing
Redefining reliability
Schindler provides expert maintenance on all brands of elevator and escalator equipment. Your account manager is always available to proactively monitor all aspects of you elevators and escalators, such as:
Maintenance fulfillment
Testing compliance
Problem resolution
Complete equipment transparency
With Schindler Service, you enjoy access to performance and maintenance records for your elevators and escalators as well as customizable reports with the Schindler ActionBoard online tool and app. So, whether you're on site or on the go, when someone asks you what's happening with the elevators, you'll have the answers.
Clean and Touchless options
Schindler offers a variety of touchless, sanitization, and upgrade options that can add value to your elevators and escalators and help bring peace of mind to patrons.
For more information, please contact:
Dan Winder
Key Account Manager
972-358-5063
Daniel.Winder@Schindler.com